Kansai University (
関西大学
) or "Kandai (
関大
)" was founded as Kansai Law School in 1886, in the large commercial city of Osaka. In 1905, the institution was granted university status, and its main campus was moved to its present site in Suita in 1922, thus paving the way for the future growth.
Kansai University is a prestigious and wide-ranging institution of higher education with 13 undergraduate, 13 graduate programs and 3 professional graduate schools located in Osaka, the biggest city of the Western Japan. There are about 30,000 students enrolled at the university with
approx. 1,000
international students.
Kansai University comprises of 6 campuses which are Senriyama, Takatsuki, Takatsuki Muse, Sakai, Umeda and Hokuyo campus. All of these campuses are located in Osaka area.
Senriyama Campus
Senriyama has been the home of Kansai University's main campus since 1922, and most of our departments are located here. Equipped with state-of-the-art facilities, the campus is located in the scenic hills of Senriyama, and is handy to downtown Osaka, and the other main cities in the Kansai region.
Faculties:
Faculties of Law, Letters, Economics, Business and Commerce, Sociology, Policy Studies, Foreign Language Studies, Engineering Science, Environmental and Urban Engineering and Faculty of Chemistry, Materials and Bioengineering, and Graduate Schools.
Address:
3-3-35 Yamate-cho, Suita-shi, Osaka 564-8680
Tel: +81-6-6368-1121

Takatsuki Campus
The Takatsuki Campus is nestled in the hills of Takatsuki, between Osaka and Kyoto, and is the home of the Faculty of Informatics. Apart from the cutting-edge facilities for media studies, the campus also contains modern sporting venues including an ice rink.
Faculty:
Faculty of Informatics, Graduate School of Informatics.
Address:
2-1-1 Ryozenji-cho, Takatsuki-shi, Osaka 569-1095
Tel: +81-72-690-2161

The Takatsuki Muse Campus
The Takatsuki Muse Campus is a modern thirteen-story building situated close to JR Takatsuki Station which started operating from April 2010. The word 'Muse' has its origins in the Greek goddess of art.
Faculty:
Faculty of Societal Safety Sciences, Graduate School of Societal Safety Sciences. Kansai University Senior High School, Junior High School, Elementary School.
Address:
7-1 Hakubai-cho, Takatsuki-shi, Osaka 569-1098
Tel: +81-72-684-4000

The Sakai Campus
The Sakai Campus was constructed on the former site of Sakai's Commercial High School to house the new Faculty of Health and Well-being from 2010, a project enthusiastically supported by Sakai City.
Faculty:
Faculty of Health and Well-being, Graduate School of Health and Well-being.
Address:
1-11-1 Kaorigaoka-cho, Sakai-ku, Sakai-shi, Osaka 590-8515
Tel: +81-72-229-5022

The Hokuyo Campus
The Hokuyo Campus is located in a very convenient area, and provides an environment for each student to develop their individuality and talents at the junior and senior high schools based there.
High School:
Kansai University Hokuyo Senior High School, Hokuyo Junior High School.
Address:
1-3-26 Kamishinjo, Higashiyodogawa-ku, Osaka-shi, Osaka 533-0006
Tel: +81-6-6328-5964

Umeda Campus
Umeda Campus was established in October 2016 as a new hub where universities, communities, and general society can develop further, under the concept of "providing places to think and act- to foster individuals who can lead, connect, initiate and create."
Umeda Campus Office:
Startup support

KANDAI Me RISE Club(Membership Salon)

KANDAI Me RISE Manabi Plaza
Contact:
Umeda Campus Office
Tel: +81-6-4256-6410
Career Center Umeda Office
Tel:+81-6-4256-6504
Adress : 1-5 Tsuruno-cho Kita-ku Osaka-shi, Osaka 530-0014

Location and Transportation
Please use public transportation to visit Kansai University.
*
replace the map with the following:
http://www.kansai-u.ac.jp/English/about_ku/location.html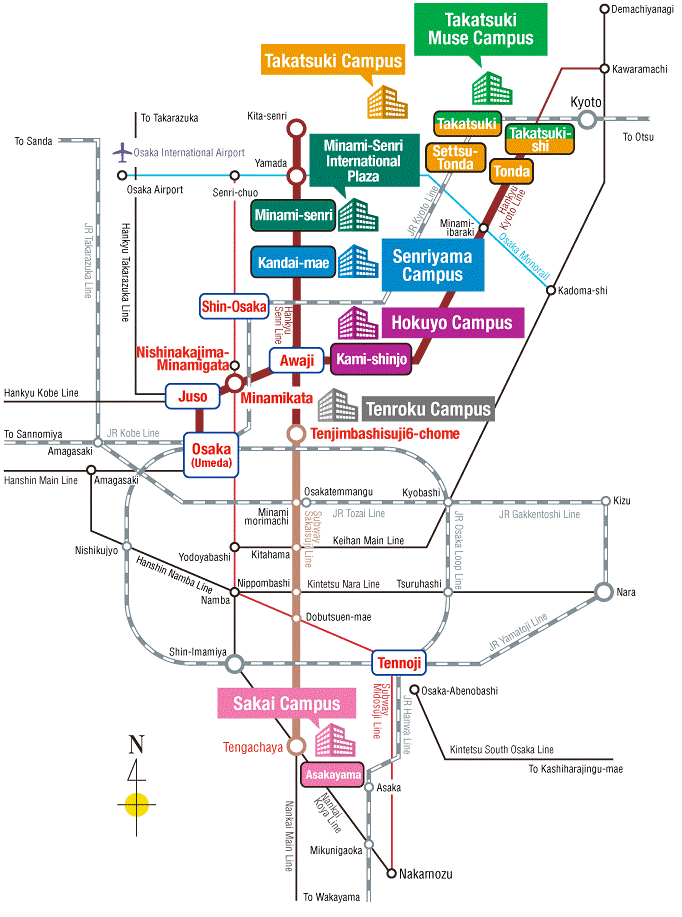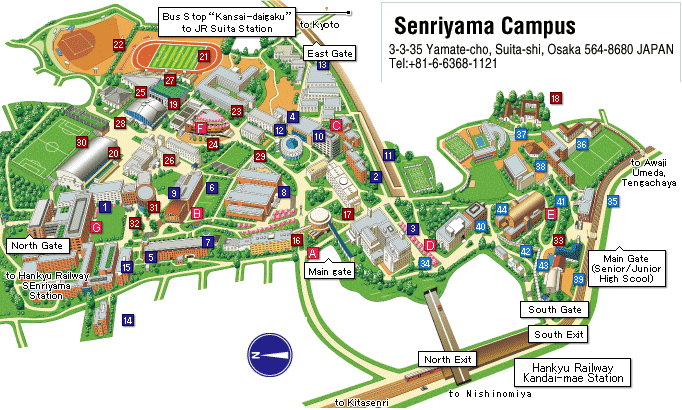 * replace the map with the following:
http://www.kansai-u.ac.jp/English/about_ku/senri_map.html