Kansai University Japanese Language and Culture Program (Bekka) is in principle a one year-program* it started in April, 2012.

The purpose of this program is to provide instruction in the Japanese language, Japan studies and Japanese culture to international students who intend to proceed to the next stage of education as a student at Kansai University or at other Japanese universities after passing the entrance examination.

Prospective students at the Center will be required to have Japanese-Language proficiency equivalent to Japanese-Language Proficiency Test (JLPT) N4 level** before entering this program.
* The period of study is one year in principle, but can be extended for another year with permission from the Center for International Education. The Bekka will employ the semester system so that students can enter the program in either the spring (April- September) or the fall (September-March) Semester.
**Language proficiency expected for those who have completed a primary level Japanese course, amounting to 300 hours of Japanese language learning.
In contemporary Japanese society, Information and Communication Technology (ICT) is an essential part of daily and university life. ICT is the core of Bekka education and it offers extensive learning opportunities with e-learning inside and outside of the classrooms. Students will develop information literacy skills as well as Japanese language proficiency.
*replace to the following website link: (About Subject – Financial Aid)
Please check the following website for more detail information about Bekka:
http://www.kansai-u.ac.jp/ku-jpn/English/about/guide/index.html
In this program, more than 20 highly skilled instructors will take charge of an assortment of 109 classes through the year, including Japanese Language subjects.
First Group: Japanese Language Class (72 classes, 2 credits each)
These courses are designed to develop the four basic language skills (reading, writing, listening, and speaking) in accordance with the student's linguistic ability (level of Japanese proficiency). The program also provides some classes to prepare Bekka students for the Japanese-Language Proficiency Test (JLPT).
Second Group: Special Lectures or Seminar (15 classes, 4 credits each)
For students who are enrolled in the First Group Japanese Language Class 5, or those who have a higher Japanese language proficiency level, the program provides special training in order to develop knowledge about technical terms and academic skills. Students will work on writing reports, and delivering oral presentations utilizing appropriate academic expressions.
Third Group: Japan Studies/ Fourth group: Japanese and the World (6 classes, 4 credits each)
These courses are about technical terms and academic skills. Students will work on writing reports, and delivering oral presentations utilizing appropriate academic expressions.
Fifth Group: General Subject (16 classes, 2 credits each)
This class is designed to enhance academic ability such as English, mathematics, and science in order to excel at undergraduate or graduate school level.



Certification Requirements

Students who enrolled in the Bekka program for a calendar year, and have earned 32 or more credits, will be recognized as having completed the program and will be awarded a certificate of completion. Of these credits, at least 24 must be earned from the First and Second Group, and at least 8 must be earned from the Third, Fourth and Fifth Groups.
Academic Calendar of the Bekka Program (Academic Year 2016)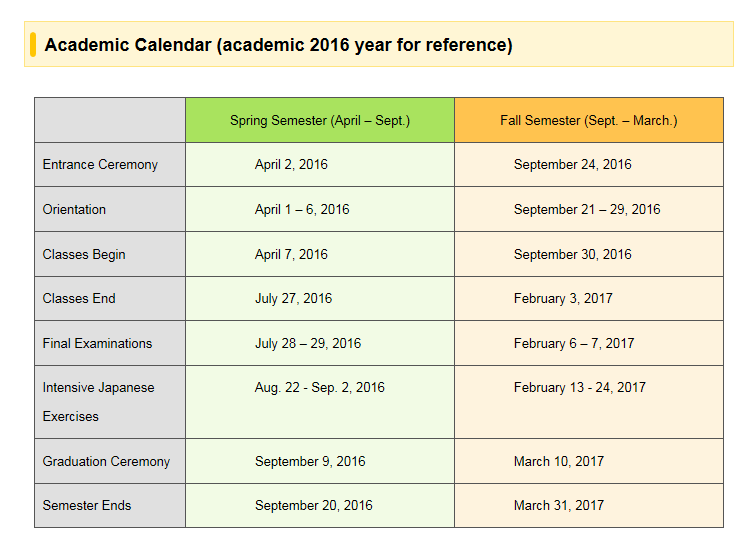 Number of students
to be admitted

100 students
(Total for April and September admission)

Students who are foreign nationals and meet either of the following
requirements:

- Those who have completed 12-year curriculum of schooling in their
home country or expect to complete their education before entering
the Kansai University Japanese Language and Culture Program.

- Those who are of an eligible age and have been deemed to have an
equivalent educational background or higher than requirements
stipulated in (1) (e.g. person who has a "Certificate for Students
Achieving the Proficiency Level of Upper Secondary School
Graduates in Japan")

April Admission: around September
September Admission: around April

Entrance Application
Fee

Screening based on application materials and interview
Tuition (Admission of Academic Year 2017)
First Semester
(Yen)

From 2nd Semester
(Yen)
Admission Guide and Application Forms are available for download from the Kansai University Bekka website (www.kansai-u.ac.jp/ku-jpn)
How to become a Bekka student
Procedure for becoming a Bekka student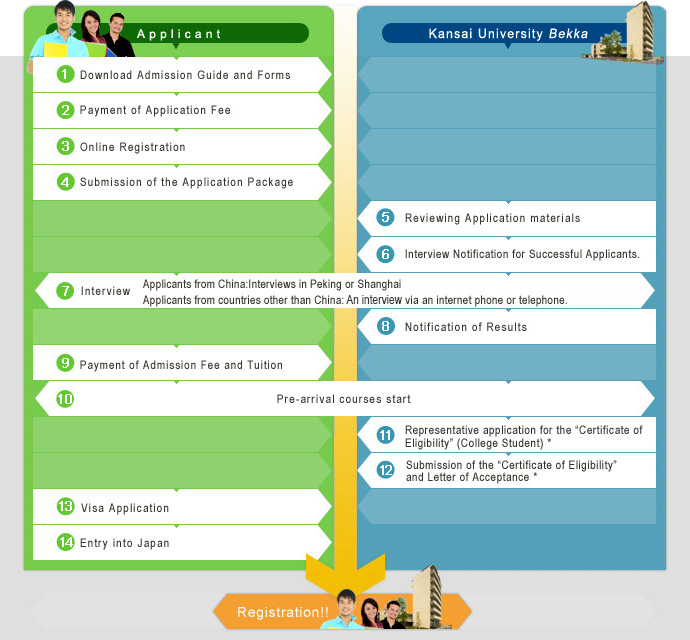 Scholarship

Students who have an excellent academic record, and who are in need of financial support, will be recommended for the following scholarships.
This scholarship grants JPY 180,000 per student per 6 months for a total of 10 students (5 students each semester).
This scholarship will be offered by JASSO (Japan Association of Student Services Organization). Recipients will be granted JPY 48,000 per month for up to one year.



Financial Aid

Financial aid which constitutes a 50% deduction in the admission fee is available to Bekka students who intend to proceed to Kansai University after completion of the program, and have successfully passed the entrance examination.



Campus Life

Minami-senri International Plaza, where the "Bekka" is located, is a modern educational facility and a dormitory for international students. Being approximately 15 minutes by bike from the main campus in Senriyama and 30 minutes away from downtown Osaka by train, the Center is very convenient, and nestled in a beautiful and quiet living environment.
Minami-senri International Plaza will be a venue for study, and also for cultural exchange with people from the local community. Students will develop intercultural flexibility and learn how to live together within the Japanese community, as well as sharing their own cultures through attending activities at the "Intercultural Exchange Plaza".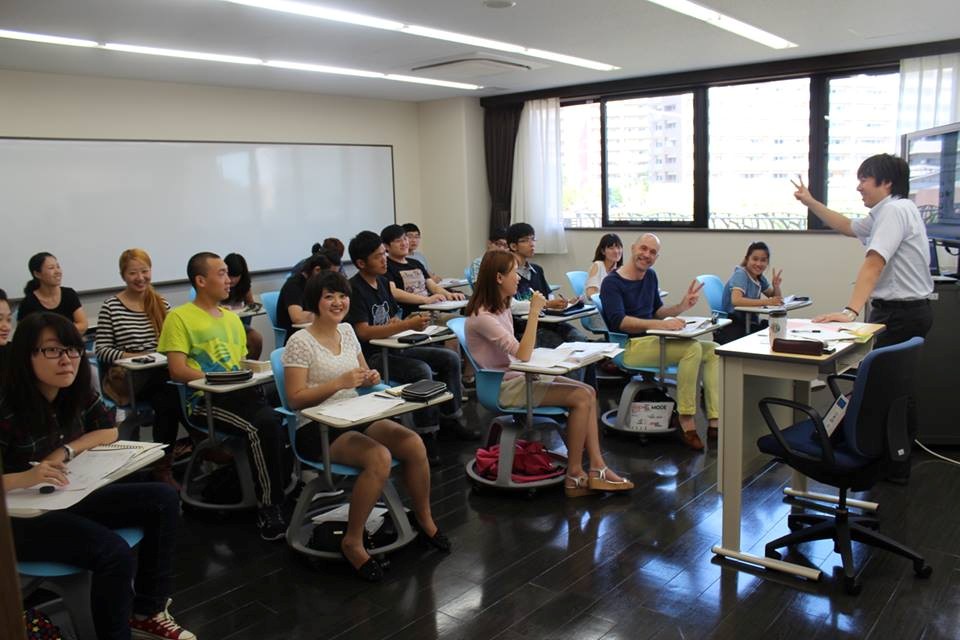 Bekka Classroom Building

The classroom building at the Plaza is set up so ICT and e-learning is available both inside and outside of classrooms, and cultivates the student's Japanese proficiency and information literacy at the same time. All classrooms, the terrace, courtyard and multi-purpose room in the dormitory have Wi-Fi.



Student Dormitory
Resident Assistants (RAs) who are students at Kansai University will live in the dorm to support the daily life of Bekka international students. Each unit is composed of 6-7 rooms, shared kitchen, and lounge so that Bekka students can spend time with international students and regular students at Kansai University in the dormitory. All rooms are single occupancy with privacy guaranteed and toilet, bath, the Internet (wired LAN), air-conditioning and all necessary things are provided.